home >> residential >>
ceiling fan installations
Ceiling Fan Installations and Services - Tulsa Electrician Services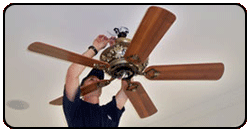 Ceiling fans can make a real difference in the climate of your home. Ceiling fans are especially beneficial here in Tulsa as they can provide excellent airflow during the hot Tulsa summers. Plus, they can reduce energy costs!
The ceiling fan installers at Scotty Electric will help in the selection of the appropriate ceiling fan for your home or business. We understand how to optimally place a ceiling fan in a room to provide you with the best air flow possible. Plus, we carry a wide variety of ceiling fans from top manufacturers  providing you with the highest quality products and the widest array of styles available.
Our ceiling fan installers at Scotty Electric also understand the electrical needs that come with the installation of a ceiling fan. In some cases, a ceiling fan can replace an existing light fixture. Other times a new set of wires needs to be run to the location that the ceiling fan is going to be mounted. Plus, if a ceiling fan includes a light fixture, proper electrical service needs to be in place. All of these electrical concerns are addressed with you to ensure that you have safe, reliable electrical service running to your new ceiling fan installation.
Our Services Include: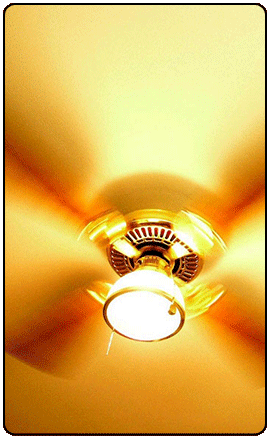 A Wide Selection of Ceiling Fans to Choose From
Proper Electrical Service to the Ceiling Fan
Professional Ceiling Fan Mounting and Installation
A 1 Year Warranty of all Parts and Labor
24 Hour a Day, 7 Days a Week Emergency Service
Addition of Needed Electrical Circuits
At Scotty Electric , we guarantee our work and have no extra charges for work on Saturdays. We are locally owned and operated with over 25 years of experience. Plus, we are licensed, bonded, and fully insured.
To find out how you can realize great energy savings and add character to your home or business with a ceiling fan, contact Scotty Electric, Electrician Services at 918-363-8060. You can also reach us through our Contact Us form. We install ceiling fans in Tulsa and the greater Tulsa Area!