Generator & Transfer Switch Installation - Tulsa
Electrician

Services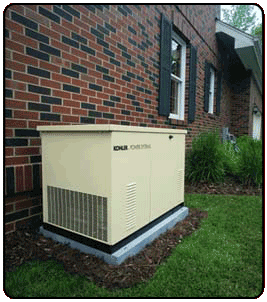 Generator Services Include:
Generator Sizing

Whole House Generator Installation

Automatic Transfer Switches

Manual Transfer Switches

Portable Generator Inlet Devices

Manual Load Center Interlock Kits

All-In-One package Generator Panels

Grounding

Supplementary Surge Protection

Stand By Panels

Annunciator Panels

Commercial Installations
Home generators are designed to provide electricity in times of power outages or utility company malfunctions for a short duration of time. Home stand-by generators not only provide lighting for the house in case of power outages, but also may, depending on their capacity provide power to run appliances like air conditioners, refrigerators, furnaces, televisions and heaters. Our Electricians can install anything from 8.5KW to 125KW generators capable of operating your entire home.
Stationary home generators require the service of a professional licensed electrician for installation. Generators are connected to the home wiring system through an automatic transfer switch, with a manual transfer switch or properly connected inlet to operate selected loads. Connecting a portable generator to the home's electrical system without these critical safety components could be extremely dangerous.
Automatic Stationary generators come with an automatic power monitoring system. As soon as there is disruption in power, the generator automatically starts to provide power and switches off automatically after normal power is restored. Call the professional electricians at Scotty Electric today to discuss your home's standby generator options. You can also check out our generator tips page for more information.
At Scotty Electric, we guarantee our work and have no extra charges for work on Saturdays. We are locally owned and operated with over 25 years of experience and employ some of Tulsa's best electricians. Plus, we are licensed, bonded, and fully insured.
The electricians at Scotty Electric can help you avoid lengthy power outages with our Stand-by Generator solutions, contact us at 918-363-8060, where an actual electrician will take your call. You can also reach us through our Contact Us form. Our electricians install Generators and Transfer Switches in Tulsa and the greater Tulsa Area!