Green Friendly Energy - Tulsa Electrician Services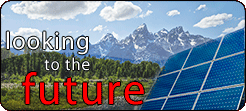 As a nation, we have become dependent upon cheap fossil fuels, in our homes, in our businesses and on our highways. And that is leading slowly, inevitably to higher and higher levels of CO2 in the atmosphere. If that is to change, we need to spur both innovation and investment – we literally need to reinvent our energy infrastructure. Going Green and Acting Green are two very different thoughts.
Everyone has heard of "Green" and how it relates to the environment.  Most people think of being green as turning of the lights when they leave a room or turning down the thermostat a couple of degrees in the winter.  While those things help there is a much larger contribution to be made to conserving the energy we have.  Protecting the environment is everyone's responsibility and that includes electricians.  As a matter of fact, Scotty Electric plays a major role in the green movement.
Many people are concerned about the state of the earth and how they can help the "green" efforts. There are many things a single person can do to contribute, but to start one does not have to go too far. Scotty Electric can help provide some insight regarding the green effort. Being green means saving energy.
A few products our electricians can install to save you money and protect the
environment

:
Dimmers Switches

- Reduce Your Electric Bills

Led Recessed Lighting

- Less Power Consumption

Attic Fans

- Save On Heating And Cooling Costs

Solar Lighting

- Let The Sun Keep The Lights On

Power Saving Devices

- The

Power-Save 1200

™ reduces the amount of power drawn from the utility by storing electricity otherwise lost from the motors in your home.

Electronic Ballasts

- Much more energy-efficient than traditional magnetic ballasts,
Most may not realize how quickly the "little things" can add up in regards to energy consumption. For instance, how much power was used due to a room left lit throughout the entire workday? Are appliances left plugged in or on standby using more energy than previously thought? To start, one of the best tips to be provided is to become aware of the little things that can make a big impact.
We are locally owned and operated with over 25 years of experience. Plus, we are licensed, bonded, and fully insured. To find out how a Scotty Electric electrician can help you save energy, contact us at 918-363-8060. You can also reach us through our Contact Us form.