Scotty Electric - Tulsa Electricians, Proudly Serving the Tulsa Area!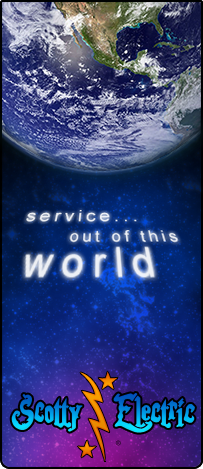 Scotty Electric was founded in 1998 as a commercial and residential electrical contracting business. Since that time Scotty Electric has worked diligently to position itself as a leader in quality electrical contracting and service work for the Tulsa area. As a top tier, family owned company we pride ourselves for going above and beyond our client's expectations in providing a level of service unparalleled in our region. Scotty Electric is highly committed to our customers and recognize that without them we can not exist.
We are licensed, bonded and insured. We use quality products along with highly motivated and skilled licensed Tulsa electricians to bring projects to completion in a timely manner. As a member of the Tulsa Area Chamber of Commerce and the Better Business Bureau, you can be assured that we will serve with integrity, excellence and professionalism
Today Scotty Electric provides a wide array of electrician services including:

Commercial Construction

Residential Construction

Electrical Service

Structured Cabling

Electrical Systems Design
Additional 120/240v Circuits
Back-Up Generator Services
Energy Saving Solutions
Panel Upgrades
If you need an Tulsa electrician you can trust, give us a call. Our service speaks for itself and is why remain a preferred service of many Tulsans, and is why we should be "YOUR TARGET FOR ELECTRICAL SERVICE"!.
Tulsa Electrician Select Services
Fuse to Breaker Upgrade - Electrician Services
Tired of your old electrical fuse box? Need more power for your house? Scotty Electric can help you determine what your options are.
Security Lighting - Electrician Services
Outdoor Security Lighting from a Scotty Electric creates a safer environment for your home. Sleep easier with the help of this full-service, turnkey program that provides complete outdoor lighting systems for residential homeowners.
Surge Protection - Electrician Services
Power surges and power spikes can occur at any time, not just when the power is restored after an outage. Surges and spikes can also result from lightning strikes, downed power lines, and even your household appliances.